Additional development approved for gteic@An Cheathrú Rua
Digital hub's footprint will double in size over the coming year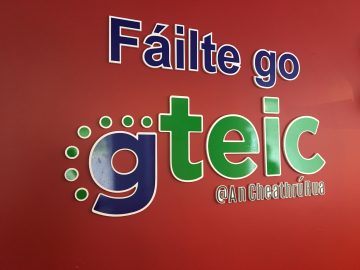 The  Board of Údarás na Gaeltachta approved capital funding to extend the gteic@An Cheathrú Rua digital and innovation hub, which means the hub will double its footprint over the coming year.
As a result of a demand for additional space capital funding up to €66,000 has been approved by the Board to extend the gteic@An Cheathrú Rua located on the An Cheathrú Rua Business Park by 385 square metres.  The extension will provide new office spaces and hot desks enhancing those facilities already in the building. The development will see a further addition of 4 office spaces which include 10 desks and will provide small businesses, entrepreneurs, concept developers and remote workers with an opportunity to set up in the gteic and also provide large companies with an opportunity to establish a satellite site or a second location for their businesses.
gteic@An Cheathrú Rua was opened in 2018 and is being managed by Comharchumann Mhic Dara on behalf of Údarás na Gaeltachta. At present the gteic is almost at capacity and there is a need for further office spaces to seize the opportunities and change in practices which arose during COVID-19.
The development of gteic@An Cheathrú Rua is stated as a key element of the An Cheathrú Rua 2021 – 2026 Action Plan which was launched last week.  Enterprise, tourism and language will make up the key implementation points of the plan and the approval of this funding indicates a positive start to that.  It's believed the demand for spaces will come from people working in development fields such as IT systems development, broadcasting services, energy, product development and education initiatives, research and development.
Anna Ní Ghallachair, Údarás na Gaeltachta Chairperson commented on the announcement:
"The growth and development of the gteic network is a significant source of encouragement for the Board of Údarás na Gaeltachta and we are happy to be in a position to approve funding to extend the facilities at gteic@An Cheathrú Rua. The benefits of the gteic network are evident in the demand for workspaces, which is a very positive development for the Gaeltacht.
Údarás na Gaeltachta's Chief Executive Office, Mícheál Ó hÉanaigh, spoke of the announcement:
"The approved additional funding will benefit gteic@An Cheathrú Rua and those who are located there or plan to relocate there, it is a wonderful facility in An Cheathrú Rua.  The additional room will add to the opportunities available in the village.  This is a positive move as the main objectives in the An Cheathrú Rua Action Plan begin to be implemented.  It will also encourage extra activities in the community and boost the local economy.  It will also provide people with the opportunity to work remotely from their hometowns, which has excellent services and highspeed broadband."
Welcoming the announcement, Seán Ó Domhnaill, Manager, Comharchumann Mhic Dara:
"We heartily welcome Údarás na Gaeltachta's announcement that this facility, which has carved a niche for itself at the core of working life in An Cheathrú Rua, is to be extended. This expansion was listed as one of the primary enterprise recommendations included in the recently launched An Cheathrú Rua action plan and that implementation of the plan has made such a strong and significant start is very encouraging for the community. This facility will provide fantastic opportunities for the community of An Cheathrú Rua into the future."