240 solar panels puts renewable energy at the heart of Inis Mór
Phase 2 of the ReAct initiative has been implemented by Údarás na Gaeltachta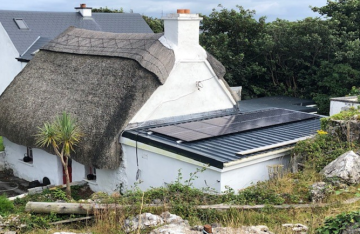 Almost 240 solar panels on twenty buildings on Inis Mór, Árainn are making the most of the sun on Inis Mór in Galway Bay as part of a European renewable energy project being implemented by Údarás na Gaeltachta and Comharchumann Forbartha Árann.
ReAct (Renewable Energy for self-sustAinable Island CommuniTies), a 4-year research project funded by the EU's Horizon 2020 programme which Údarás na Gaeltachta is a partner in association with Comharchumann Forbartha Árann and other European partners,  has completed phase 2 of the project which means that almost 240 solar panels have been installed on 4 public buildings, 13 dwellings and 2 commercial units.  Using innovative renewable energy technology, it is hoped that this project will lower
emissions and energy costs on this Gaeltacht island.
It is envisaged that when this pilot scheme is completed that Inis Mór will have the potential to prove that the Island could have energy autonomy not to mention the reduction in greenhouse gas emissions.
The innovative technology recognises how each individual building uses energy by linking technology, weather forecasts and electricity tariffs.  The system stores energy in batteries and calculates the optimum time for efficient energy usage, taking the weather and electricity tariffs into consideration. This implementation of beneficial project on Inis Mór is possible due to the pioneering work of Comharchumann Fuinnimh Árann and Comharchumann Forbartha Árann Teo.
The REACT project was launched in 2019 to research energy sustainability on offshore islands and Inis Mór, Árainn is one of three pilot islands participating in the project along with San Pietro (Italy) and La Graciosa (Spain).  Twenty three partners from 11 European countries form part of the project.  Údarás na Gaeltachta is the chief project coordinator in Ireland and is working closely with Comharchumann Forbartha Árainn Teo, National University of Ireland, Galway, ESBN, SEAI,  Spain's Orduna and Mitsubishi.
The ReAct project is being implemented as part of the strategic project An Ghaeltacht Ghlas (The Green Gaeltacht) which forms a core part of Údarás na Gaeltachta's Strategic Plan 2021 – 2025 which recognises the importance of tackling climate change and the need to lower the carbon footprint to reduce global warming.
Údarás na Gaeltachta's Chief Executive Officer Mícheál Ó hÉanaigh spoke about the project:
"Údarás na Gaeltachta is very pleased to be a part of the European ReAct project which is being implemented with the support of the community on Inis Mór.  Over the past number of years the importance of climate change has been widely highlighted and the recent COP26 conference indicates that there is a need to act now and not later.  This project will demonstration how renewable energy projects can address climate change, reduce energy costs using innovative technologies and find stable energy sources for small Gaeltacht communities."
Such a project could have environmental and economic benefits by linking renewable energy and storage systems with technologies to enable an integrated and digitalised smart grid which could benefit homes in Árainn and along the west coast.
Further information on the ReAct project is available at https://react2020.eu/ which is available in Irish, English, Italian and Spanish.