Water, Sport and Fun for Gaeltacht Youth!
The Iorrais Gaeltacht area's UISCE Club is very popular and the number of students who have attended the Irish club has grown by 50% since 2019
Gaeilge Iorrais supported the establishment of an Irish language water adventure club in Coláiste UISCE for youth in the Iorrais Gaeltacht area in October 2020. Young people in the area were given opportunities and encouragement to use Irish through sport and play and in children's company of this Gaeltacht. There was a particular emphasis on surfing and kayaking skills, as well as safety at sea and weather. This all-Irish club catered for primary and post-primary students. A total of 58 local young people have been involved in the UISCE club to date and almost 20 others are on a waiting list. (i.e. limited numbers due to health restrictions and strict Covid-19 policy). This all-Irish club is very popular and is expected to build in 2021.
What time? 10 October 2020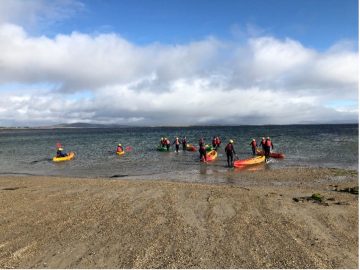 "Chuir sé ríméad orainn i gColáiste UISCE obair i gcomhar le Gaeilge Iorrais agus club UISCE a sheoladh i gcroílár Ghaeltacht Mhaigh Eo. Bhí sé mar aidhm againn suíomh sábháilte taitneamhach a chruthú do dhaoine óga. Tugadh deis dóibh a gcuid Gaeilge a úsáid ar bhealach taitneamhach idirghníomhach agus iad ag cur lena bhféinmhuinín agus lena scileanna eachtraí uisce. Tá súil againn freisin go dtapóidh cuid acu an deis post ceannaireachta nó teagascóireachta a ghlacadh linn amach anseo. Mol an óige agus tiocfaidh sí."
— Róisín Nic Grianna, Coláiste Uisce