#ThisIsTheGaeltacht
Insights into the Gaeltacht through a flash video campaign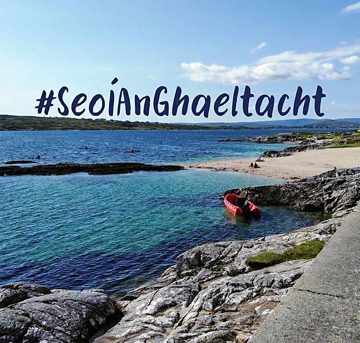 The Language Planning Officers launched a new social media campaign entitled # SeoÍAnGhaeltacht in early May 2020. This campaign aims to foster pride of place, language and culture and positive memories of the Irish language and to awaken the Gaeltacht. Attractive and exciting images and videos of the Gaeltacht are widely shared on social media which celebrates their area, culture and the Irish language and contributes greatly to the identity of the Gaeltacht across the Gaeltacht regions.
Attractive and vibrant images of the Gaeltacht are being widely shared on social media on an ongoing basis using a series of Gifs specially designed for the campaign. Young and old were attracted to celebrate their place and their native language and indeed, well-known people from various areas shared their views on it, including Seán Mac an tSíthigh, Bláthnaid Ní Chofaigh, Áine Ní Bhreisleáin , Caitríona Ní Dhomhnaill, Máirtín Tom Sheáinín and musicians from YeVagabonds and In Their Thousands.
The hashtag # seoíanGhaeltacht is now used by all Language Planning Officers to highlight the work they are doing. The campaign was nominated for this year's campaign in the 2020 Oireachtas Awards.