Fitness & Training Scheme
Fitness and language opportunities for children in the North West in the Donegal Gaeltacht Promoting the use of Irish inside and outside the classroom!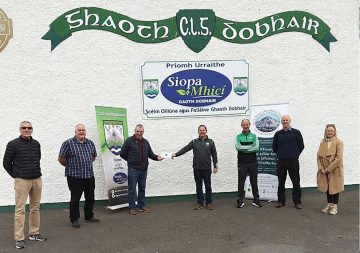 Meitheal Pleanála Teanga an Iarthaiscirt in the Donegal Gaeltacht decided to provide funding to provide a Fitness & Training Scheme in conjunction with the Gaoth Dobhair GAA for LPT primary schools. Under the scheme, a trained coach (Seán Nancy Ó Gallchóir) attends 6 schools in the LPT per week. He runs fitness lessons (other than football only) through Irish for the children and they also discuss healthy eating. This scheme is proving very successful, the children are enjoying it and the schools are very grateful for the extra support.
The scheme is particularly important because such a service was provided through English and the children of the area now have the opportunity to speak Irish in a natural and fun context. A good relationship is being maintained between the Language Planning Officer and the area 's schools where practical support is being provided which is in line with the objectives of the Policy for Gaeltacht Education in relation to the provision of services through Irish. Of course, the scheme is extremely timely at the moment and the Department of Education is recommending that more use be made of the yard for classes during the crisis period.
"We are delighted to be able to provide support for this scheme, it strengthens the link with the schools and it is in line not only with the objectives of the language plan but also with the objectives of the Policy for Gaeltacht Education. The following aim is stated in our language plan 'to foster and increase the use of Irish inside and within the school'. We hope to secure more permanent funding for this scheme to ensure that it continues in the coming years and that it is extended to other Gaeltacht schools throughout the county. "
Gweedore and Lower Rosann OPT, Dónall Ó Cnáimhsí
Teacher reference: available