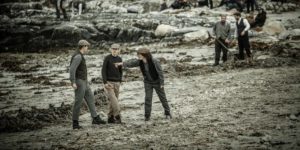 There is an ever-increasing awareness of the Gaeltacht's culture and heritage. The language has played a very important role in the continuation of the Gaeltacht's unique culture and heritage, and the spoken language contains the collective memory of a community and its way of life.
Údarás na Gaeltachta and the Arts Council have set out a strategic framework for the development of arts in the Gaeltacht. Both organisations, jointly fund a broad spectrum of traditional and contemporary arts initiatives and projects through a subsidiary company called Ealaín na Gaeltachta.
Ealaín na Gaeltachta employs three regional arts facilitators who implement the arts programme. For further information regarding this programme log on to Ealaín na Gaeltachta's site www.ealain.ie or contact your local Arts Officer.
Údarás na Gaeltachta's support for Cultural Events in the Gaeltacht focuses mostly upon community based cultural projects and there is also a particular emphasis on Irish language events. Among the projects we support are:
Festivals
Cultural events
Publications
Literary events
Drama
Seminars
Educational workshops
Our financial support ensures that valuable community cultural activities are encouraged and developed and that the Irish language is promoted within these events.
For further information please contact your local Language and Culture Officer.
Or log on to Ealaín na Gaeltachta's site www.ealain.ie
Language and Culture Executives