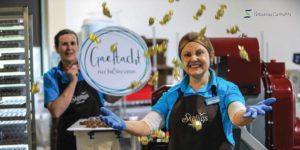 Údarás has a lot of support to offer businesses in the Gaeltacht and for people who are going into business for the first time in the Gaeltacht. Here you will find information on how the Údarás can help you start your own business. You will also find general information on how to start your own business
Our supports:
Údarás na Gaeltachta has helped hundreds of people like you to set up their business. Talk to us about your idea and see how we can help you best.
We can put you in touch with other organisations that may help you. We also run a Mentoring Scheme to help new businesses find external expertise.
We provide a range of financial support schemes that may be suitable for you. Not all proposals will be eligible for a grant, but we will give you every assistance. Financial supports available include 'First Steps' Grants for first time business people.
A Feasibility Study Grant is available to help you assess the viability of your business concepts. You can receive up to half the costs involved in the investigation stage back.
If you are looking for training for new staff or management training for yourself, you may be eligible for financial support. We will also inform you about training courses.
We can help you with your space requirements, whether you need an office, a workshop or manufacturing space. We have spaces available throughout the Gaeltacht as well as spaces in gteic, the Gaeltacht's digital network.
We provide advice so that you can research the market so that you can ensure real business potential.