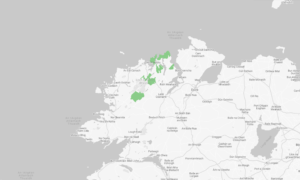 Tuaisceart Dhún na nGall has a very large, dispersed Gaeltacht Language Planning Area (LPT). There are approximately 50 kilometres between Bun na Toinne, the point furthest east, and Cnoc an Stualaire, the point furthest west. There is approximately 60 kilometres between Earra Thír na Binne, the point furthest north, and na Polláin Dhubha, the point furthest south.
According to the 2016 Census, 2,818 people live in this LPT, and 9.1% of this population over 3 years of age spoke Irish on a daily basis.
Language Planning Officer
Póilín Uí Ghallachóir
opttuaisceartdnag@gmail.com
This is the approved language plan for the area.