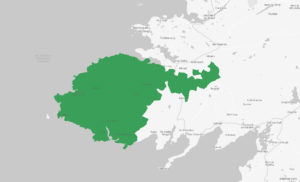 Dún na nGall Theas is the second largest Gaeltacht Language Planning Area (LPT) in Donegal. Much of this district is located in the hills, along with a few parts beside the coast.
According to the 2016 Census, 3,036 people lived in this LPT, and 10.9% of this population over 3 years of age spoke Irish on a daily basis.
Language Planning Officer
Liam Ó Flannagáin
bealanphobail@gmail.com
The language plan for the area.
Lár-Chomhairle Paróiste Ghleann Cholm Cille
Language Planning Committee:
Béal an Phobail
Lár-Chomhairle Paróiste Ghleann Cholm Cille
Mín an Aoire
An Charraig
Co. Dhún na nGall