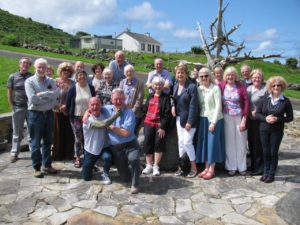 Painéal Teagascóirí do Ranganna Gaeilge á athnuachan – léirigh spéis
Is mian le hÚdarás na Gaeltachta athfhógairt a dhéanamh ar an phainéal teagascóirí a fógraíodh in 2017. Painéal é seo de dhaoine atá ar fáil agus ar suim leo ranganna Gaeilge a theagasc sa Ghaeltacht.
Cuireann Údarás na Gaeltachta tacaíocht ar fáil do choistí, d'ionaid seirbhísí teanga agus d'eagraíochtaí a sholáthraíonn ranganna Gaeilge sa Ghaeltacht. Tá pobail Ghaeltachta, i gcomhpháirt leis an Údarás agus leis an Roinn Cultúir, Ealaíon, Meán, Turasóireachta, Spóirt agus Gaeltachta faoi láthair ag ullmhú agus ag feidhmiú pleananna teanga do gach Limistéar Gaeltachta. Táthar ag súil go mbeidh de thoradh ar an phróiseas pleanála teanga sa Ghaeltacht go gcuirfear leis an líon daoine a úsáideann an Ghaeilge mar theanga chumarsáide gach lá. Is cuid thábhachtach den chur chuige pleanála teanga é go mbeadh teacht ag pobal na Gaeltachta ar dheiseanna le cur lena gcumas sa Ghaeilge agus chuige sin déantar clár leathan de sheirbhísí teanga a sheachadadh ar fud na Gaeltachta gach bliain.
Leis an soláthar seirbhísí teanga sa Ghaeltacht a chinntiú agus a mhéadú, tugann an tÚdarás cuireadh do dhaoine atá sásta agus oilte ranganna Gaeilge a theagasc clárú leis le dul ar phainéal do theagascóirí ranganna Gaeilge. Is ón phainéal seo a roghnófar teagascóirí le tabhairt faoi ranganna a reáchtálfar in ionaid/ar líne ar fud na Gaeltachta agus a bheidh i dteideal tacaíochta ón Údarás.
Iarrtar ar dhaoine ar spéis leo a bheith áirithe ar an phainéal an fhoirm chlárúcháin a líonadh agus a sheoladh chuig an Údarás faoin spriocdháta den 18 Lúnasa 2020.
Íoslódáil an fhoirm chlárúcháin anseo
Is féidir teacht ar an fhoirm chlárúcháin freisin trí theagmháil a dhéanamh leis:
An Rannóg Pleanála Teanga, Údarás na Gaeltachta, Na Forbacha, Co. na Gaillimhe.
T: 091 503100    Rphost: pleanailteanga@udaras.ie
Irish Language Courses
There are a wide range of Irish language courses on offer by various organisations and institutes throughout Ireland to suit all levels of ability.
Gaeltacht based Irish Language Courses

Non Gaeltacht based Irish Language Courses