Waterford Gaeltacht to sparkle in the White House on St Patrick's Day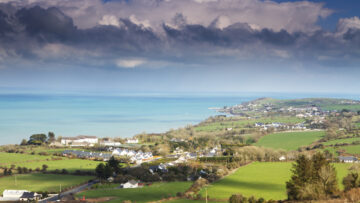 Údarás na Gaeltachta client company Criostal na Rinne designed and handcrafted the crystal bowl which will be presented to the President of the United States for St Patrick's Day 2017
This year the Taoiseach's office selected the crystal craft business Criostal na Rinne in the Waterford Gaeltacht of An Rinn, to make this special handmade piece which will be presented to President Donald Trump in Washington on Thursday, 16 March. Eamonn Terry, owner and founder of Criostal na Rinne designed and cut the crystal bowl.
Master craftsman glass cutter Eamonn, who founded Criostal na Rinne in 1987, explains the inspiration behind his design. "The design of the bowl is inspired by the artwork from the Book of Kells, one of Ireland's greatest cultural treasures".
Speaking about his craft Eamonn said, "I wanted to showcase our local craft traditions by drawing on our rich heritage for this special piece which also has a lot of tradition attached to it. I hope when people see the shamrock bowl they will want to visit the studio and experience for themselves a demonstration of the craftsmanship that goes into making hand cut crystal."
Eamonn hopes that the international exposure from this special commission will help raise the appeal of cut crystal and revitalise the craft itself for a younger generation.
Steve Ó Cúláin, CEO of Údarás na Gaeltachta said, "We are delighted that the excellent work that Eamonn and Criostal na Rinne have been producing for decades will now be seen on the worldwide stage. It is evidence of the high quality and exceptional products that can be produced by skilled companies in rural Gaeltacht areas with the support of Údarás na Gaeltachta."
After learning his trade in Waterford Crystal, where he rose to the position of master craftsman glass cutter, Eamonn founded Criostal na Rinne in 1987. He is no stranger to making one-off commissions of this kind, having made crystal pieces that have been presented to the President of Ireland, Michael D. Higgins, former President Mary McAleese, HRH Prince Edward, 2nd Duke of Kent and former Mayor of Chicago, Richard Daly.