Údarás na Gaeltachta welcome 100 new jobs proposed for Conamara and Galway City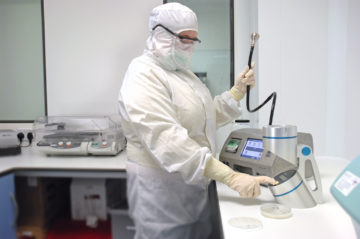 Saotharlann Chonamara/Complete Laboratory Solutions (CLS) is celebrating 25 years in business by announcing the creation of 100 new jobs over the next two years in locations in the heart of the Galway Gaeltacht and in Galway City also.  Set up with the support of Údarás na Gaeltachta in 1994 in Ros Muc, Conamara, Saotharlann Chonamara Teo has flourished under the guidance of founder and CEO Evelyn O'Toole and opened a second facility CLS MedPharma in Galway city with the support of Enterprise Ireland in 2008.
Saotharlann Chonamara water and environmental services in Ros Muc will be recruiting 18 environmental science graduates and food microbiologists to join the 45 people currently employed in the Gaeltacht facility. Saotharlann Chonamara provides sampling, testing, fully trained analysts on contract and first-in-class managed solutions to environmental and food clients
The majority of the newly announced positions, 78, will be at CLS MedPharma to manage new projects and the expansion of existing contracts covering roles for microbiology and analytical analysts in Galway as well as at client sites in Cork, Limerick, Dublin, Waterford and Sligo. The remaining four positions will cover new appointments in marketing, sales and finance.
Complete Laboratory Solutions (CLS) is Ireland's largest privately-owned contract laboratory, provides sampling, analysis and fully trained micro and analytical analysts on contract to clients in the food, environmental, medical device and pharmaceutical industries. The company currently employs a workforce of 191 who cater for a portfolio of over 600 Irish and international clients.
Evelyn O'Toole, Founder and Chief Executive Officer of CLS, said: "Celebrating our 25th year in business has been incredible and I'm delighted to be announcing new jobs to mark the occasion. I want to say a sincere thank you to the management team, all my colleagues at CLS and our clients for their work, their loyalty and support throughout the years. Our workforce expansion demonstrates our maturity as an international player, and we have created the momentum to continue to grow and deliver exceptional service for our clients thanks to the vibrant MedTech industry in Ireland. We have certainly come a long way from our humble beginnings in 1994 and I very much look forward to the next chapter."
Údarás na Gaeltachta Chief Executive, Mícheál Ó hÉanaigh, welcomed the announcement stating: "Údarás na Gaeltachta are proud to have supported CLS Teo. (Saotharlann Chonamara Teo.) from its inception in Ros Muc 25 years ago and we congratulate Evelyn O'Toole and her team for their continued growth and success. We wholly welcome their announcement of further expansion and the creation of further high-quality jobs both in Ros Muc which will assist with the implementation of the 5 Year Development Action Plan for Iorras Aithneach launched earlier this year."