Údarás na Gaeltachta has issued an Advisory and Supports Plan to assist Gaeltacht Communities and Businesses affected by Covid19.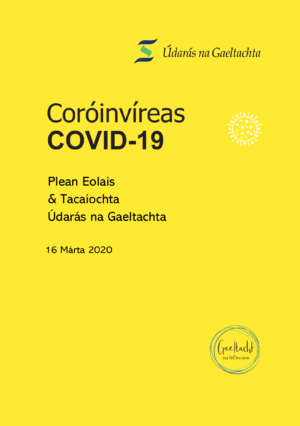 Údarás na Gaeltachta understands that client companies, subsidiaries, community development organisations and social employment schemes under our aegis are experiencing significant pressures as a result of the Covid-19 Coronavirus.
We are here to provide a number of supports to help mitigate the impact of Covid-19 Coronavirus, as much as possible, and we hope the information contained in this document is of assistance.
Working alongside Government Departments and other State Agencies and colleagues on a cohesive approach to Covid-19, Údarás na Gaeltachta is committed to ensuring that our clients and subsidiaries are prepared and informed about the most up-to-date advice and supports available.
Our over-riding advice to stakeholders is to continually and shrewdly monitor the guidance being issued by the Public Health Authorities nationally and internationally including relevant Government Departments. The most up to date advice on Covid-19 is available at the following links:
• World Health Organization (WHO)
• European Centre for Disease Prevention and Control (ECDC)
• Health Protection Surveillance Centre (HPSC)
• Health Service Executive (HSE)
• Department of Business, Enterprise & Innovation
• Department of Culture, Heritage and Gaeltacht
• Department of Employment Affairs and Social Protection
• The Revenue Commissioners
Available Supports
The following are the supports available to eligible companies to help them address business problems which may arise as a result of COVID-19:
Be Prepared Grant – The Be Prepared Grant is available to our clients (microenterprises, small and medium businesses) who would benefit from additional research and external expertise in preparing a contingency plan in relation to Covid-19 and examine how to reduce risk, manage cashflows, human resources and marketing. This support grant is up to €5,000 or 50% of the total cost.
Act On Initiative – This support will be available to client companies which export and whose businesses will be affected by the virus. It will provide access to 2 days consultancy engagement at no extra cost to assess financial management, strategic sourcing and transport and logistics advice.
The Mentoring Scheme provides support for a business mentor to assist you in the initial stage of your business or who will give advice on specific areas of your business plan.
Finance in Focus – offers clients funding of up to €7,200 to cover third party consultant's fees. The grant supports the development of a financial and business plan that identifies funding needs and potential sources of funding.
Advice for Community Development Organisations
Údarás na Gaeltachta is working closely with the community development organisations under our aegis to ensure that they have the proper supports and information available to them. We recommend that the community development organisations continue to follow the guidance from State health agencies in relation to Covid-19.
The Údarás na Gaeltachta Aonad Forbartha Pobail (Community Development Unit) and Údarás executives will be available to community development organisations as usual, by phone and email. Meetings can be arranged online or on the phone but we are advising that meetings do not take place on location.
Údarás na Gaeltachta has had discussions with the Department of Culture, Heritage and the Gaeltacht to ensure that in the coming weeks that funding mechanisms remain functional to facilitate operational grant claims in the usual manner in the weeks ahead.
FURTHER INFORMATION: The Advisory and Supports Plan can be downloaded here Covid19 Advisory & Supports Plan
Údarás na Gaeltachta available for Advice and Support
To make an application or to receive advice:
Údarás officials continue to be available to discuss the most appropriate supports available to your company, please contact us.
Email us:
eolas@udaras.ie
Call us:
Headquarters, Galway: 091-503100
Donegal Regional Office: 074-9560100
Mayo Regional Office: 097-81418
Kerry Regional Office: 066-9150100
Cork Regional Office: 026-45366
Visit our Websit:
www.udaras.ie
Follow us on social media for the latest news:
https://www.facebook.com/UdarasnaG/
https://www.instagram.com/udarasnag/
https://twitter.com/UdarasnaG/
https://www.linkedin.com/company/udarasnagaeltachta