Údarás na Gaeltachta cofund new research to investigate the potential of digital technology to reengage rural business communities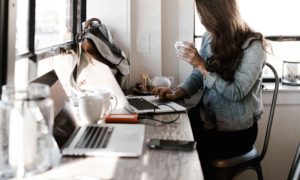 Údarás na Gaeltachta is cofunding new research, in conjunction with Waterford Institute of Technology, to explore methods in which increased digital technology interventions and learnings can assist peripheral and rural businesses in the Gaeltacht to connect and develop.
The research is opportune at this time and will provide an insight into the benefits that rural businesses can achieve from digital technologies in the recovery from the COVID-19 crisis.
The research will also investigate the development of peripheral Gaeltacht business communities by the use of technology – something that is very timely at the moment in light of the importance of technology to all who are currently working from home, continuing to operate a business or keeping families linked.
The proposed 4-year PhD action research project will embed the researcher in the Waterford Gaeltacht business community and Waterford Institute of Technology.
Údarás na Gaeltachta and WIT are seeking a researcher with an enthusiasm for cutting-edge social research and a well-developed understanding of the latest advances in qualitative research methods. Due to the embedded nature of this research the successful applicant will be expected to be ordinarily resident in the southeast region of Ireland, engaging with Gaeltacht communities and must be present at Waterford Institute of Technology to participate in structured PhD modules. As the applicant will be immersed in a Gaeltacht business community, proficiency in the Irish language is necessary to complete the study and it is anticipated that the PhD candidate will be able to exhibit oral and written proficiency in both Irish and English.
The scholarship co-funded by Údarás na Gaeltachta and Waterford Institute of Technology will provide an annual stipend to the successful scholar of €12,000.  Údarás na Gaeltachta has a long established and successful educational pillar and has a long history of implementing various educational schemes.   In recent years a number of partnerships have emerged with other third level institutes where post graduate students are supported to pursue areas of study, with a particular relevance to the Gaeltacht.
Mícheál Ó hÉanaigh, Údarás na Gaeltachta's Chief Executive Officer said "Údarás na Gaeltachta has a long-standing partnership with WIT in supporting the Higher Diploma in Television and Digital Media Production. We are delighted with this new partnership and hope that we can build on our close working relationship with the Institute on other future projects. Research and innovation will be very important to the Gaeltacht as we try to recover from the COVID-19 crisis. To that end, it will be vital for businesses to maximise the value of new technologies in their recovery phase and this research will assist them greatly to realise the benefits."
The closing date for applications for this PhD research opportunity is Friday May 29th 2020 and further information can be found below;