Údarás na Gaeltachta Board Meeting held in Dingle Development Co-operative on the occasion of the 2019 Gaeltacht Football Competition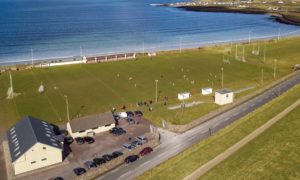 Ar ócáid reáchtála Chomórtas Peile na Gaeltachta 2019 i gCorca Dhuibhne tionóladh cruinniú boird d'Údarás na Gaeltachta sa gceantar ar an Aoine 31/5/19 mar a dhéantar go bliantúil.
Comórtas Peile na Gaeltachta 2019
Thug cathaoirleach CLG na Gaeltachta i gCorca Dhuibhne, Seán Ó Cátháin, léargas don Bhord ar na forbairtí a bhí curtha i gcrích acu le roinnt blianta anuas ag réiteach don chomórtas agus páirc caide nua forbartha acu. Ghlac sé buíochas leis na heagraíochtaí ar fad a thug cúnamh agus tacaíocht dóibh na forbairtí a chur i gcrích agus Údarás na Gaeltachta ach go háirithe a chur suímh éagsúla ar fáil ar léas fadtéarmach chun na páirceanna caide a fhorbairt.
Thréaslaigh an Bord a n-éachtaí leis an gcoiste eagraithe agus dúradh gur léiriú an togra ar an spiorad láidir pobal atá sa cheantar. Ghuí an Bord gach rath ar Choiste eagraithe Chomórtas Peile na Gaeltachta atá ar siúl an deireadh seachtaine seo agus ag ceiliúradh 50 bliain i mbliana.
Toscaireacht ó Chomharchumann Forbartha Chorca Dhuibhne
Rinne Bainisteoir Chomharchumann Forbartha Chorca Dhuibhne, Páid Ó Sé, cur i láthair don bhord ar obair an Chomharchumainn agus an dul chun cinn atá déanta acu sa gceantar le blianta anuas. Leag sé amach freisin cuspóirí agus pleananna dúshlánacha an chomharchumainn sna blianta atá amach romhainn i gceantar Chorca Dhuibhne ach go háirithe mar a bhaineann le tuilleadh forbartha ar chúrsaí coláiste Gaeilge.
Gradam Aitheantais 'Lóchrann' le bronnadh ar laoch CLG Naomh Abán, Bhaile Bhuirne
Bhronn Bord an Údaráis an gradam aitheantais 'Lóchrann' ar Choiste Náisiúnta Chomórtas Peile na Gaeltachta in 2013. Is buan-ghradam urraithe ag an Údarás é 'Lóchrann', píosa álainn cré-umhaí a léiríonn beirt pheileadóirí i ndian choimhlint, deartha agus déanta ag an ealaíontóir Pádraig Reaney. Bronntar an 'Lóchrann' go bliantúil ar aíonna faoi leith mar aitheantas speisialta ar a bhfuil bainte amach acu ó thaobh cúrsaí spóirt a chur chun cinn sa nGaeltacht.
Is ar Phaidí Beag Mac Giolla Easbuic as Gleann Cholm Cille, i gCo. Dhún na nGall a bronnadh an Gradam i 2018 agus is ar Sheán Ó Cróinín as Baile Bhuirne a bheidh an gradam á bhronnadh i mbliana
Allúntas de €100,000 ceadaithe don Phleanáil Teanga i nDún na nGall Theas
Cheadaigh Bord Údarás na Gaeltachta allúntas de €100,000 ag a gcruinniú inniu (31/5/19) do Lár Chomhairle Paróiste Ghleann Cholmcillle atá ag feidhmiú mar Cheanneagraíocht Pleanála Teanga i limistéir pleanála teanga Dhún na nGall Theas. Tá an maoiniú á cheadú chun tacú leis an gceanneagraíocht an plean teanga a ceadaíodh le gairid a fheidhmiú.
Cuireann An Roinn Cultúir, Oidhreachta agus Gaeltachta soláthar maoinithe ar fáil d'Údarás na Gaeltachta le cur ar a chumas an próiseas pleanála teanga a chur i bhfeidhm sa Ghaeltacht. As an soláthar sin cuireann an tÚdarás maoiniú ar fáil do Cheanneagraíochtaí atá i mbun pleananna teanga a fheidhmiú sna Limistéir Pleanála Teanga (LPT) agus sna Bailte Seirbhíse Gaeltachta (BSG) atá faoina chúram.