Statement from the meeting of the Uíbh Ráthach Taskforce Steering and Monitoring Group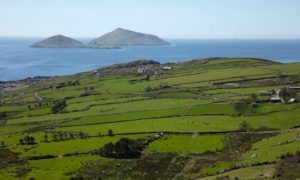 Uíbh Ráthach Taskforce still operational despite COVID-19
A meeting of the Uíbh Ráthach Taskforce Steering and Monitoring Group was held today despite the challenges COVID-19 has created. As a result of the current travel restrictions the group's meeting was held online for the first time. Members of the taskforce, who represent the community, institutes of education, local Government and Government Departments were present virtually.   The members agreed that it was a positive sign in itself of the steps being taking by community and State groups, and communications companies to gradually improve broadband services in the Uíbh Ráthach area and also the commitment of those organisations to the Taskforce's work.
Appointment of Shane Grant as Research Officer is welcomed
The members of the Uíbh Ráthach Taskforce warmly welcomed the appointment of Shane Grant to the role of Taskforce Research Officer by Údarás na Gaeltachta at a meeting of its Steering and Monitoring group which was held on-line today.  Shane commenced his duties at the beginning of this week, and his work will focus primarily on the research-related actions set out in the Uíbh Ráthach Taskforce Action Plan 2019-2022.
Speaking during the meeting, Dónal Ó Liatháin, Chairperson of the Taskforce, said that Shane would have a central role in bringing to fruition the research actions within the plan, and that the impact of that research would be seen in the coming months through the implementation of works set out in the plan which are dependent on this important preparatory work being completed.
Research on the Uíbh Ráthach Gaeltacht's Enterprise and Housing Infrastructure begins
As part of the Uíbh Ráthach Taskforce Action Plan Údarás na Gaeltachta has begun researching possible workspaces and housing units available in Uíbh Ráthach on a long-term lease / letting arrangement.  The limited supply of both has long been seen as a limiting factor in attracting families and entrepreneurs to this picturesque area. The Action Plan aims to welcome 10 new families to Uíbh Ráthach over a three-year period and hopes the research will result in infrastructural information beneficial to the area.
Renowned researcher Dr. Breandán Ó Caoimh, who has completed significant research in the Uíbh Ráthach area previously, made a presentation to the Taskforce regarding the work he is currently conducting on behalf of Údarás na Gaeltachta in this regard.