Seminar to explore Gaeltacht tourism opportunities along the Wild Atlantic Way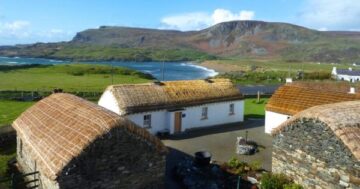 The unique heritage and culture of the Gaeltacht and ways in which to maximise the tourism opportunities provided by the success of the Wild Atlantic Way will be discussed at a seminar organised by Údarás na Gaeltachta in Carna, on Friday 21 October.
Since its launch in 2014 the Wild Atlantic Way has been a great success both in terms of domestic tourism and visitors from abroad. In spatial terms the Gaeltacht constitutes 25% of the overall Irish coastline, including the six offshore Gaeltacht Islands and much of this is along the Wild Atlantic Way. This presents Gaeltacht businesses with an opportunity to develop and provide niche travel experiences for visitors.
The seminar is open to anyone providing tourism services or exploring possible opportunities throughout the Connemara Gaeltacht, in particular providers of niche tourism offerings with international appeal. The seminar will be held in Irish.
Tourism Executive with Údarás na Gaeltachta, Éamonn Ó hEanaigh says "The aim of the event is to explore culture and heritage as a basis for developing and growing sustainable tourism products in the Gaeltacht. We are hoping that this event will be the start of a conversation around what is possible in the region."
There is a wide range of speakers participating in the event. The morning session will focus on heritage and culture with speakers from Ionad na mBlascaoid in Kerry, Teach Solais Fhanada in Donegal, the heritage site at Dún Aonghusa on the Aran Islands, and the soon to be completed Ionad Cultúrtha an Phiarsaigh, Conamara in Ros Muc, Co. Galway. The afternoon will explore niche tourism sectors such as food tourism and walking, and supports for businesses will also be discussed.
There is no charge for the event however places are limited. The event takes place at the Carna Bay Hotel. You can book your place by calling Údarás' head office at 091 503100 or emailing your details to eoh@udaras.ie.