Process begins to achieve Gaeltacht Service Town status for An Clochán Liath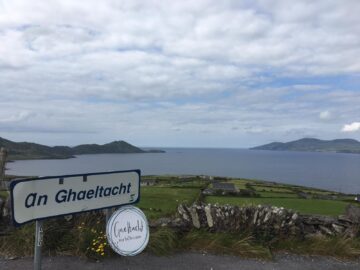 Applications being sought from organisations interested in preparing and implementing a language plan
Údarás na Gaeltachta is seeking applications from organisations or community groups in Na Rosa, Co. Donegal, who would be interested in operating as a Lead Organisation as part of the language planning process to prepare and implement a language plan to achieve Gaeltacht Service Town status for An Clochán Liath.
Gaeltacht Service Towns are defined as those towns situated in or adjacent to Gaeltacht Language Planning Areas and which have a significant role in providing public services, recreational, social and commercial facilities for those areas. 26 Gaeltacht Language Planning Areas and 16 Gaeltacht Services Towns have been recognised for the purposes of the Gaeltacht Act 2012.
Micheál Ó hÉanaigh, Chief Executive Officer, Údarás na Gaeltachta said, "This announcement has come at an opportune time as a language plan is currently being prepared for the Language Planning Area of Na Rosa. The community in that LPA depend on An Clochán Liath for facilities and services and this will further advance the important work being done to support and ensure the future of the Irish language in the area."
The deadline for applications to be made to Údarás na Gaeltachta is 15 March 2018. An information meeting will be held by Údarás na Gaeltachta in Ionad Teampall Chróine, An Clochán Liath on the 27 February 2018 commencing at 8.15pm.
For groups/organisations interested in making an application, further information is available on the Údarás or by contacting the Údarás na Gaeltachta Regional Office at Páirc Ghnó Ghaoth Dobhair on 074 9560100.