gteic@Gaoth Dobhair an Innovation and Digital Hub opened officially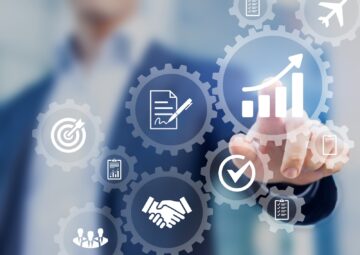 The Government Chief Whip and the Minister of State with responsibility for the Irish Language, the Gaeltacht and the Islands, Joe McHugh, TD., opened the state-of-the-art innovation and digital hub gteic @Gaoth Dobhair, in the Donegal Gaeltacht today (Monday, 16/04/18). Accompanied by Anna Ní Ghallachair Údarás na Gaeltachta's Chairperson, and Mícheál Ó hÉanaigh Údarás na Gaeltachta's Chief Executive Officer, the 1,400 sq metre space will be officially launched as part of gteic Gréasán Digiteach na Gaeltachta (Gaeltacht Digital Network).
gteic @Gaoth Dobhair is a network of 30 innovation & digital hubs in locations throughout Ireland's Gaeltacht areas. The innovation hubs will be dotted along the majestic Wild Atlantic Way in Donegal, Mayo, Galway, Kerry and Cork and include Waterford and Meath in Ireland's Ancient East. Six Gaeltacht islands and seven non-Gaeltacht islands are also included in this digital ecosystem so as to support the sustainability of these off-shore island communities.
gteic @Gaoth Dobhair contains 26 hot desk and shared space facilities for remote workers and e-workers with the potential to expand on this in the future. It also includes 20 fully equipped office spaces and incubation units for businesses which are starting up or developing.
Central to this development is access to gigabit enabled broadband. The availability of video conferencing, meeting and training space facilities, at reasonable rates will provide gteic members and organisations with greater possibilities when carrying out their work.
At present it, approximately, 18 projects and businesses are operating in gteic@Gaoth Dobhair with 50 employees. As a result the facility is a vibrant and central part of the digital ecosystem which is being developed by Údarás na Gaeltachta and will continue to grow with 30 hubs in Gaeltacht locations throughout the country once the project is completed.
To date, three hubs have opened in Béal an Mhuirthead in Co. Mayo, Daingean Uí Chúis in Co. Kerry and today in Gaoth Dobhair in Co. Donegal. A further three hubs will be completed and welcoming members in An Cheathrú Rua, An Spidéal and Carna in Co. Galway by the end of 2018.
The hub will be a significant boost for north-west Donegal, encouraging new companies and start-ups to develop and locate. It will enable people who wish to develop a business concept and will provide access to mentoring and support. In addition, gteic @Gaoth Dobhair will give people an opportunity to return home and work remotely from the hub for some or part of the working week on a national or global scale. Providing people with this opportunity will play an important role in sustaining rural communities.
Joe McHugh, Government Chief Whip and Minister for the Irish language, Gaeltacht and the Islands, said: "Today was a very important day for the Gweedore Gaeltacht and the Gaeltacht at large. I'm delighted that the officials at Údarás na Gaeltachta are realising this dream today. I think the perception of the Gaeltacht changes once you go into the Áislann Gaoth Dobhair. You have a naíonra, museum, and library but on top of that you have International companies and you have local companies.
It gets rid of the perception of the Gaeltacht that it's only insular type industry that goes on, providing for a local community, it's bigger than that. The Gaeltacht is no longer just about a position of geography. It has a geographical remit but ideas such as gteic are very much an international story which is going from strength to strength."
Mícheál Ó hÉanaigh, Údarás na Gaeltachta's Chief Executive Officer said, "The development of Gréasán Digiteach na Gaeltachta (Gaeltacht Digital Network) is a integral part of Údarás na Gaeltachta's development strategy to change the narrative of Ireland's rural areas in the coming years. The network will support Údarás na Gaeltachta's main objective which is to create and nurture viable Gaeltacht and Irish Language communities. We are delighted that the hubs will encourage the Gaeltacht diaspora to return home by providing business development or remote working opportunities in the high-quality facilities we are developing."