Gaeltacht primary students being inspired by special STEM programme 'An Chruinne'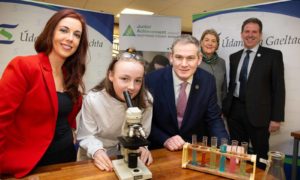 A special education programme in Science, Technology, Engineering and Mathematics called 'An Chruinne' is being run in Gaeltacht primary schools to encourage interest in STEM subjects amongst students. The pilot programme, which is devised by Údarás na Gaeltachta and Junior Achievement Ireland, will operate for its second year in 16 primary schools in 7 Gaeltacht regions across counties Donegal, Mayo, Galway, Kerry, Cork, Waterford and Meath.
The 2019 programme was officially launched by Chief Whip and Minister of State for Gaeilge, the Gaeltacht and the Islands, Seán Kyne T.D. and Máire Treasa Ní Cheallaigh, broadcaster and former RTÉ journalist who has recently returned to education and is undertaking a degree in medicine.
A study by Microsoft Ireland shows that 30% of Irish students don't understand how STEM is relevant to their lives and 44% of Irish secondary school respondents believed that STEM subjects are more suited to men than women.
With this in mind Maire Treasa Ní Cheallaigh, at the launch of An Chruinne, said, "We all understand the importance of science, and it is wonderful that this is being promoted now amongst children and young people, especially girls. I thought it was interesting that research by Girls in Stem has shown that almost half of students questioned thought that science was more suited to men than women and that all students need role models to keep them motivated. Just like in sports, women have a central role in science which needs to be highlighted, and a lot of progress has been made in recent years. The An Chruinne programme is another positive step."
Máire Treasa Ní Cheallaigh recently became a medical student and the experience has highlighted for her the importance of encouraging an interest in science from an early age and offering children positive and practical science experiences that will encourage them to take up science subjects in secondary education and onwards.
"I didn't do science for my Leaving Cert and so when I began my first semester at medical school last September, I felt like I was on the back foot compared to others in my class. When I was at school I didn't realise the relevance these subjects would have for me. Giving children an early, positive experience in STEM will mean they are perhaps less fearful of these subjects later on and opens up so many more opportunities for them."
The programme consists of five modules and will teach the higher primary classes Science, Technology, Engineering and Mathematics and it is important that such a programme is being delivered through the medium of Irish in primary schools in the Gaeltacht.
The Government Chief Whip and the Minister of State with responsibility for Gaeilge, the Gaeltacht and the Islands Seán Kyne, T.D., said "It is important that we encourage the Gaeltacht's younger generation towards science, technology, engineering and mathematics. Providing them with a range of skills to realise their ambitions will lead to a brighter and more innovative future for the Gaeltacht."
Údarás na Gaeltachta Chief Executive, Mícheál Ó hÉanaigh also added "Innovation and the Irish language are cornerstones of Údarás na Gaeltachta's strategy in the years ahead and this programme delivers both in equal measure. It is essential for us to encourage the Gaeltacht's younger generation to move towards innovation and spark an interest in STEM sectors through their native language. We are delighted to continue working with Junior Achievement Ireland, Gaeltacht primary schools and local business volunteers to inspire our future entrepreneurs and scientists."
Helen Raftery, Chief Executive of Junior Achievement Ireland said, "We are delighted to have the continued support of Údarás na Gaeltachta as we work with local schools and volunteers to get young people excited about studying science and the skills required for their future success. Helping students to link the work they are doing in class with the world outside of school enhances their learning experience, and the work of volunteers from business and industry alongside teachers is a great way to make that happen. The presence of the Minister of State with responsibility for Gaeilge, the Gaeltacht and the Islands, Sean Kyne T.D. serves to underline the importance of role models in inspiring young people to see the value of studying STEM."