Gaeltacht participants sought for new course in Marine Tourism and Seafood Fundamentals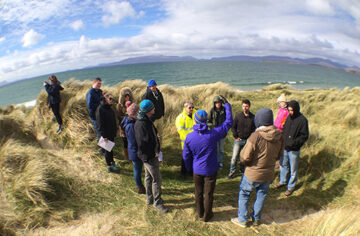 A new part time course has been developed by LYIT's School of Tourism for people working in the marine tourism and seafood sector. The Certificate in Marine Tourism and Seafood Fundamentals is funded by Údarás na Gaeltachta and Donegal County Council.
The programme is seeking participants from the Gaeltacht to take part in the one day a week course, which runs over 13 weeks from September to December 2016 at the School of Tourism in Na Cealla Beaga. The aim of the course is to assist business owners and people employed in the tourism sector in Donegal to develop their skills and competencies in areas relating to seafood processing and marine tourism. There will be a particular emphasis on operating a tourism related business in a coastal/rural location and the course is free of charge for participants. As part of the programme participants will attend cookery demonstrations and will visit businesses, such as seafood processors and tourism activity providers, to gain further insight into the sector.
The course will run on Wednesdays in Na Cealla Beaga and it is hoped that as well providing a forum to learn more about the marine tourism and seafood sectors, there will be networking opportunities for participants so that they can generate business for each other in the future.
Údarás na Gaeltachta is hoping for a high number of Gaeltacht participants on the course. Much of the Wild Atlantic Way in Co. Donegal is located in the Gaeltacht and tourism enterprises in the Gaeltacht play a central role in attracting visitors to the area. Interested parties are encouraged to make contact as soon as possible to secure a place.
Further information about the course is available by downloading a brochure from www.udaras.ie or by contacting Ciarán Ó hAnnracháin, Letterkenny Institute of Technology, ciaran.ohannrachain@lyit.ie; (074) 9186603
A brochure for the course can be downloaded below: