Mint Tek
Specialists in high specification printed circuit boards and assembly, Mint Tek is a company that is helping researchers and developers bridge the gap between an idea and a fully functioning prototype. Mint Tek enables the procurement, design for manufacture and supply chain management involved in PCB manufacturing and assembly. Founded in 2014, the business works with suppliers to provide engineers with printed circuit boards (PCB) and electronic hardware prototypes, as well as dealing with PCB assemblers and designers on the engineers' behalf.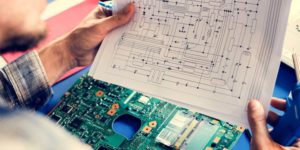 Cen chaoi ar chabhraigh an tÚdarás?
Le cúnamh ó Údarás na Gaeltachta, d'éirigh le Mint Tek tionscadail a chur i gcrích maidir le glacadh le cleachtas nua um bhainistiú slabhra soláthair, ag cabhrú le hathruithe dearfacha a chur i bhfeidhm maidir le hoibríochtaí an chomhlachta, i dteannta le caidreamh soláthróirí a láidriú, díolacháin a mhéadú agus an sreabhadh airgid a fheabhsú.