Criostal na Rinne
Criostal na Rinne is a hand cut crystal studio workshop situated in Ireland's Ancient East in the picturesque Irish-speaking area of An Rinn, the Waterford Gaeltacht.
Eamonn Terry, a master craftsman glasscutter of over 45 years experience. Starting his career with Waterford Crystal before establishing his family-run workshop Criostal na Rinne in 1987, producing Irish crystal of breathtaking quality and beauty. Creating meaningful connection with our rich culture, history, nature and language.
Eamonn gives free tours and demonstrations both individually and to groups, showing the techniques of a master craftsman and explaining the history of glassmaking in the area stretching back hundreds of years to the present day.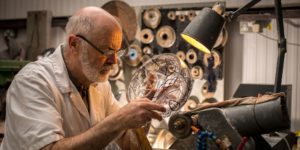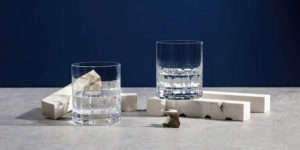 How did the Údarás help?
Údarás na Gaeltachta supports Criostal na Rinne in their production of high quality products that has received recognition on world stage, when the crystal bowl presented to the President of the United States for St Patrick's Day in 2017 was made by Criostal na Rinne. One of the number of excellent products produced by Eamonn and Criostal na Rinne down through the years that has been produced from a rural region and sold to companies around the world.