Donegal Socks
Donegal Socks are the unique end product of the third generation of a family business involved in the manufacturing of traditional wool socks in the picturesque town of Glenties in Donegal.
A centuries old tradition of sock making, a rare craft which has passed down generations. The natural ruggedness of their products is a reflection of the colours and patterns which reflect the wild and beautiful scenery of this region.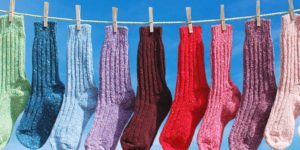 Cén chaoi ar chabhraigh an tÚdarás?
Chuir infheistíocht Údarás na Gaeltachta déiseanna ar fáil do Stocaí Dhún na nGall margaí nua a fhorbairt agus chuir sé ar chumas an chomhlachta díriú ar thaighde a dhéanamh ar dheiseanna nua margaíochta agus iad a fhorbairt ar scála domhanda. In 2017, chuaigh Stocaí Dún na nGall ar thuras trádála gnó go Bostún le hÚdarás na Gaeltachta chun margaí nua a fhorbairt.