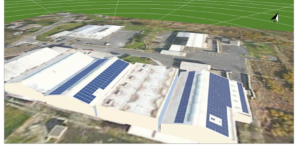 The vision Comharchumann Mhic Dara Teo have is to develop a Green estate in the area with a mix of renewable energy projects. Comharchumann Mhic Dara believes that it is important to undertaker renewable energy project to promote an interest in climate change, the environment and also in the interest of public health.
It is hoped that the project will promote best practice and will encourage other projects in different areas and estates throughout the Gaeltacht.  It is expected to have a positive impact on energy issues, people's health and environment of the area. This in turn will assist in achieving, of for example the target of 80% carbon dioxide reduction.
With this project it is intended by Comharchumann Mhic Dara to install 160KW of solar panels Photovoltaic (PV) on the roofs of their own workplace on the Crompán Estate, and other buildings used by the Comharchumann in the Estate.
The project is a partnership between Comharchumann Mhic Dara, Forum Connemara (LEADER) and Údarás na Gaeltachta. Renewable Energy Project development is included in the Údarás na Gaeltachta Authority's Development Strategy and recognizes that there are opportunities for Development Organizations to undertake various initiatives to promote the sector. Údarás na Gaeltachta can provide assistance and advice in the development of this sector initiatives. This project is a very good example of a partnership approach and is hoped that the project will be producing solar energy by the middle of the year.