TG4 & Údarás na Gaeltachta Announce second year of Media Training and Development Scheme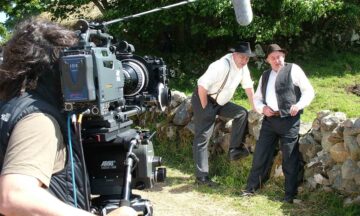 TG4 and Údarás na Gaeltachta have announced a second year of the Media Training Development Scheme which was launched in 2019 for the first time.  The aim of the scheme is to support production companies to develop the skills and talent of their production staff and in doing so encouraging an emerging generation of Irish speaking talent to work in the sector.
TG4 and Údarás na Gaeltachta will both be making a significant investment of €160,000 each in the scheme, in addition to the input from the independent sector which will create training and employment opportunities. Additional training will be conducted in conjuction with Gréasán na Meán, Galway Film Centre and GMIT.
The project is divided into two initiatives, a Work Experience Scheme, aimed at production companies who would like to invest in developing new talent in the sector by giving  practical experience to a graduate or new entrant in an area where the company sees a gap in expertise. Skills areas which might be considered could include Content and Ideas Development, Creative Producers and Content Directors. Companies are asked to include the name of their nominated trainee in their application.
A certified Level 8 Qualification in Media Practice will be awarded to all trainees under the direction of GMIT, Galway Film Centre and Gréasán na Meán Skillnet.
The Upskilling Bursary Scheme is aimed at professionals in the industry who wish to upskill or develop their area of expertise.  The bursaries will support specific courses or training initiatives, which lead to general career development and support producers to develop their business potential.
Director General of TG4, Alan Esslemont, says:
"I am delighted that the Media Training Development Scheme in partnership with Údarás na Gaeltachta, and the independent production sector will take place for a second year.  The scheme had a very successful first year, we have seen new talent develop over the year, and the results of their work were seen on screen. Developing talent and the independent production sector is central to TG4's five-year strategy, especially in Gaeltacht areas and the regions."
Chief Executive Officer of Údarás na Gaeltachta, Mícheál Ó hÉanaigh, adds: 
"We are extremely pleased that the scheme is underway for its second year, this is as a result of the great partnership between our organisation and TG4.  Údarás na Gaeltachta has a long history with the creative digital industries and it's wonderful to see that this innovative and dynamic scheme is hugely popular and is enhancing the development of a stream of talent and new skills coming to the fore in the Irish language audiovisual and digital media spheres in 2020." 
TG4 and Údarás na Gaeltachta are accepting expressions of interest from Independent Production Companies who are interested in participating in the Media Training Development Scheme.  Full details of the scheme and application forms can be accessed at www.tg4.ie/oiliuint and  www.udaras.ie
Watch more here: Youtube: Scéim Forbartha Oiliúna