Community and Sustainability at the heart of Cill Ulta Glasshouse Redevelopment
Ní neart go cur le chéile rings true in An Fál Carrach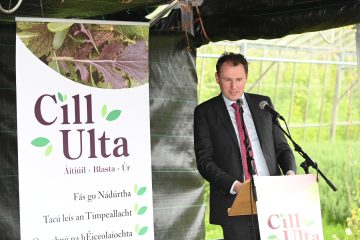 Údarás na Gaeltachta welcomes the launch of the Cill Ulta Glasshouse Redevelopment in An Fál Carrach by Lárionad Acmhainní Nádúrtha CTR, where community and sustainability is at its very core. The newly redeveloped glasshouse is being officially opened by the Minister for Agriculture, Food and the Marine Charlie McConalogue T.D. today.
An Ghaeltacht Ghlas – the sustainable development of the Green Economy in the Gaeltacht region is a priority goal in the Údarás na Gaeltachta 2021 – 2025 Strategy. Partnership and collaboration between Údarás na Gaeltachta and social enterprises such as the Cill Ulta project will be a key element towards achieving this goal.
Údarás na Gaeltachta has invested €250,000 in the retrofit of the glasshouse, which encompasses one acre of land and, in line with sustainability/circular economy principles, has used recycled materials as part of the redevelopment.
LAN CTR installed on-site rainwater catchment reservoirs and a particle filtration/UV sterilisation system, and the soil used in the glasshouse is developed on-site through the application of compost made from production waste, community-supplied manure, and seaweed.
Cill Ulta is a social enterprise with charitable status promoting Irish solutions to the challenges of climate change; sustainability, social inclusion; ecological degradation; agricultural import dependency; and the cultural, linguistic, and population decline of the Gaeltacht. Specifically, it is dedicated to reviving the economic and cultural resilience of its community by promoting ecological awareness, biological agriculture and horticulture, sustainable energies, and the development of a circular economy.
Speaking at the opening Minister for Agriculture, Food, and the Marine Charlie McConalogue T.D. said:
"I'm very pleased to open the glasshouse redevelopment here at Cill Ulta in An Fál Carrach in the Donegal Gaeltacht. The vast horticulture initiatives undertaken by Lárionad Acmhainní Nádúrtha is a testament to their belief in sustainability, community, culture and environmental matters and shows how committed they are to using traditional and new methods of cultivating the land."
Eithne Nic Lochlainn, Manager at Lárionad Acmhainní Nádúrtha spoke about both the past and future of the glasshouses:
"We are extremely proud of the work we are doing here at the Cill Ulta glasshouse and our achievement in collaborating with other organisations, for example, Mental Health Ireland and third level institutes and Professor Fiona Doohan to advance innovative developments in horticulture. The glasshouse has been here since 1972, and now half a century later, it is being used again to provide food and showcase how returning to traditional methods in food production ensures sustainability whilst also protecting the environment and addressing climate change."
Chairperson of the Board of Údarás na Gaeltachta, Anna Ní Ghallachair, also added:
"On behalf of the Board of Údarás na Gaeltachta I wish to congratulate our client Lárionad Acmhainní Nádúrtha CTR on the redevelopment of their vast glasshouse located here since the 1970s. Their endeavours to grow vegetables using only sustainable and regenerative methods is very fitting as climate change will affect us all in the years ahead. The many research initiatives underway here in Cill Ulta prove how modern and traditional cultivation methods can come together in the Gaeltacht to protect the environment."
Speaking at the event Údarás na Gaeltachta's CEO Mícheál Ó hÉanaigh said:
"The benefits of this investment will be seen, quite literally, on our plates. The food production aspect in the Cill Ulta Glasshouse draws upon sustainability and being environmentally friendly which is central to Údarás na Gaeltachta's strategic project 'An Ghaeltacht Ghlas'. The An Ghaeltacht Ghlas strategy develops and supports businesses based on innovation in Gaeltacht areas and this is an excellent example of the type of industry that is developing new technologies and work practices to ensure future sustainability and ability for growth. We are proud to continue our work with LAN and look forward to further developments in this social enterprise."